SUMMERTIME Introductory Interdisciplinary Online Collaborative Training
Want to be ready for your first Collaborative file this fall?  Devote a few days of your summer from the comfort of your office, back porch or cottage to get your Introductory Interdisciplinary Collaborative Training.  Trainers Diane McInnis (Legal), Annette Katchaluba (Family), Debbie Hoffman (Legal) and Rob Hehl (Financial) are offering 5 days of introductory online training over two consecutive weeks in August:  Thursday & Friday, (August 17 & 18); and Wednesday, Thursday & Friday the following week, (August 23 to 25).
This Interdisciplinary Collaborative Training fulfills the 5 days required to provide qualified professionals with the fundamentals of Collaborative Practice.  Note that the OACP has established qualifications for legal, family and financial collaborative professionals.  These qualifications can be found on our website under the Tab "Membership and Community/Become a Collaborative Professional".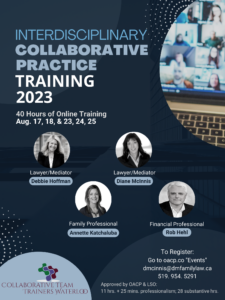 Registration information link is below.
Register Now